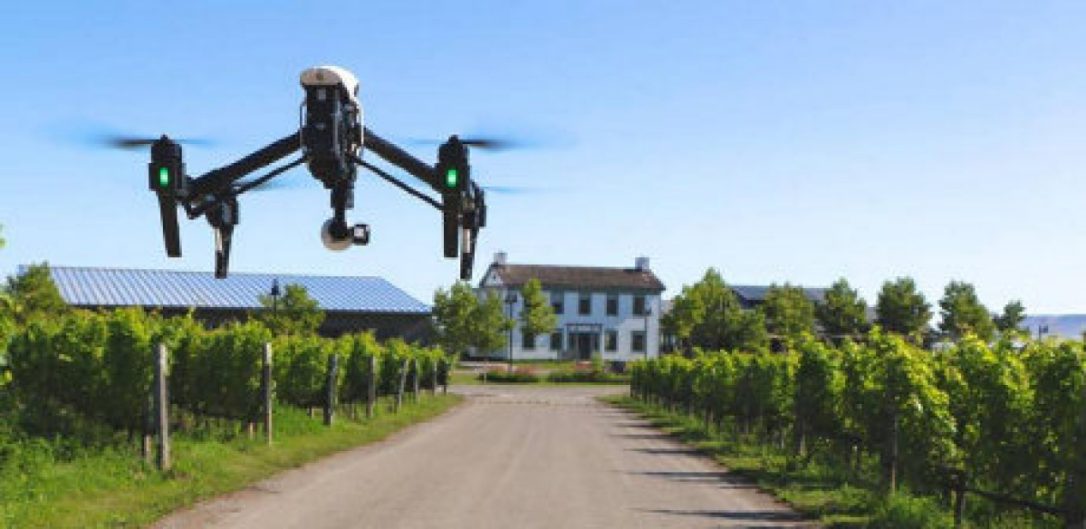 The high-flying new world of real estate
The high-flying new world of real estate
Some realtors take to the skies with drones to showcase special homes and woo buyers
When Toronto lawyer Don Roger put his Port Hope home up for sale this spring, he suddenly saw the historic homestead where he's lived for 20 years from a completely different perspective.
That's because his agent is among the growing ranks of realtors turning to drone technology to take real estate marketing to a whole other level — sky high.
"I'd never seen the top of my roof or how the gardens look all laid out — and we have some big gardens," says Roger. "It added a little bit of zest" to the listing.
And zest is what it's all about in the Internet age, where potential buyers can click and tour from a continent away and will know within a few super high-definition seconds if it's a home worth a second glance.
"I've had many homes sold to worldwide investors after just looking at the video or having the wife look at the video from afar and say, 'That's fine.' And we're talking multimillion-dollar homes," says real estate photographer and videographer Robert Holowka, owner of four-year-old Birdhouse Media.
Holowka recently used a drone, combined with stunningly seamless interior video and still photography, to create a Hollywood-worth look at a $6.2 million condo for sale in a former Palmerston Ave. church.
"With the drone, you can show if it's within walking distance of parks, of the CN Tower. It puts everything in perspective quickly in terms of where the property is located."
In Roger's case, that's been particularly helpful, given that his landmark home, the 1829 Penryn Homestead in Port Hope, has a coach house and studio, a hectare of lush land, is surrounded by the Port Hope Golf & Country Club and isn't far from Lake Ontario.
It's also listed for $1.5 million, making it a much tougher sell in that market.
"He's got the right house and the right lot — he's got his own private park there," says listing agent Tony Pulla, who used to hire planes to photograph big properties. This year he realized that drone technology was far better, cheaper and easier, despite what can be a month-long wait to get flight-path approval from Transport Canada.
"At the end of the day, you still have to meet with people eyeball-to-eyeball to do a deal," says Pulla. "But with the Internet you just don't know where a client is coming from any more, so at least we can bring as much of the property as possible to them."
Condo marketing firm Buzzbuzzhome.com used a drone briefly to chronicle how specific projects were coming along and the views from soon-to-be-built floors. They were inundated with calls from builders, looking to use the drone for marketing purposes, but stopped in the wake of stringent Transport Canada rules around drone use for commercial purposes that are now under review.
Veteran Oakville realtor Dan Cooper recently hired DroneHub Media to show off higher-end properties, including his own Muskoka cottage (list price $7 million) with what's really more a lifestyle flick.
His daughter is even captured by the drone wakesurfing in their Lake Joseph waters with a boatload of friends.
Cooper had an Australian buyer snap up a home on a sweeping 20-hectare lot near Campbellville after seeing drone footage of the unique property.
"I try to give people the best possible marketing because it does tend to lead to a quicker sale," says Cooper, who deals with a lot of international buyers.
"It's got to be an outstanding property to justify it. You don't just take a little subdivision home and send up a drone. There's no point."
Bailey Roubos co-founded DroneHub Media with his brother Blake just last June. They have three drones, worth about $4,000 each, and have already been enlisted to do aerial videos of some 25 properties that can cost $500 to $1,000 to produce.
They've also be tapped to do aerials of vineyards and golf courses so that keen players can get a sense of a course before tee time.
"Video is worth a thousand pictures. Our productions tend to show off the property better than how it actually looks," because of super high-definition 4K technology now common on even lower-cost drones, says Roubos.
"Everything has moved to online marketing with real estate. If you're not doing this, you're already behind. It's a matter of what's going to stand out when people are looking for a home online."
Condo marketing company Buzzbuzzhome.com sees huge potential for both marketing and site inspection with the $2,500 drone it bought two years ago to create online videos, like this one of the now completed 40-storey Peter Street Condominiums. "If you're a buyer living up in Barrie, you can see how your building is coming along or what the view will look like from your window," says the site's co-founder, Matthew Slutsky. The drone is parked for now because of the long wait for approval to fly from Transport Canada.
The use of drones has taken off in such a big way as their costs dropped dramatically that Transport Canada is in the midst of reviewing regulations that have been in place since 1996.
The federal regulatory agency hopes to introduce new rules around the use of the fastest growing sector of so-called UAVs, or unmanned air vehicles, those that are 25 kg or smaller.
Right now, it can take at least 20 days to get the special flight operation certificate needed from Transport Canada before anyone can fly a drone for commercial purposes.
The operator has to provide details of how and where the drone will be flown and getting approvals for urban centres can be much more difficult given the risk of straying into aircraft flight paths, hitting buildings or trees or crashing onto pedestrians."We didn't get shut down, we got scared," of possible fines, says Matthew Slutsky, co-founder of condo marketing company Buzzbuzzhome.com.
His company was using a drone, which he estimates weighs less than 2 kg, to create online videos showing the progress of construction on some highrise condo towers and provide potential buyers with a sense of the area surrounding proposed projects.
It's around the use of those small drones where the rules seem to become a little more grey.
"You don't need permission, but you must meet the exemption requirements," for operating smaller drones, according to Transport Canada.
That means providing contact information, the model of UAV, a description of how you plan to use it and the "geographical boundaries of operation."
Link To Article: https://www.thestar.com/business/2015/09/23/the-high-flying-new-world-of-real-estate.html